By Sue Krueger, President
It's hard to believe that spring is right around the corner. It seems like winter will be over before we know it this year. Luckily, we had planned for spring by getting everything organized for re-potting last fall. We sifted and blended soil components, selected trees that needed to be re-potted and the pots that might be most suitable, made sure we had everything we needed brought inside and set up in the basement workshop. One by one trees were brought in from the cold-frame, old soil was removed, new pots selected and trees were re-potted and taken back out to the cold-frame to rest and recover, ready for spring. We are nearly finished with the trees in the cold-frame and we're starting to think about trees wintering outdoors. If they're thawed enough, we may start bringing them into the cold frame to continue thawing out, re-pot them and return them to the cold-frame, under lights, to let the roots recover.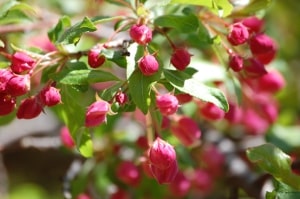 As I was thinking about this process I started to realize how very important it is to plan, prepare and be organized to practice bonsai successfully. It was such a luxury to go out to the cold-frame, select a tree, work on it with calmness and intention, and feel the deep satisfaction of knowing the task was well done and that the tree is set-up for and ready for spring. We used to rush around, trying to cram it all in a short period of time, but it was almost impossible to get everything done before it was too late. Many years we were completely overwhelmed and became frustrated at having to wait until next year to re-pot some of the trees. This set our trees in development back another year, upset our plans for a refined tree or further compromised a tree that was unhealthy or damaged.
When trees are in the development phase, you will be focusing on root development, thickening of the trunk or ramification of branches. Soil mix that allows for water drainage, retention of nutrients and a pot and covering moss that encourages fine root growth are essential. As trees mature in their development, it's important to know how to control growth and promote refinement. Perhaps a soil mix that retains more water and pot that is smaller will help to encourage slower and more ramified branch development is needed. If the tree has been damaged or diseased, it will need careful attention to recover overall health. This may mean a change in the soil component blend, and pot size. Whatever the case may be, learning to assess what the tree needs and how to best provide it is one of the most important tenants of bonsai practice.
As we learn more of good bonsai practice, and how to plan and prepare for success, the more deeply satisfying our experience becomes. I now enjoy the re-potting process, as I learn to care for and cultivate each tree. It's so rewarding to see a tree respond with vigor, fine roots, good branch development and beautiful flowers. We are looking forward to the beginning of another bonsai growing season, I hope you are too.