By Tim Barton
This is the second part of the multi-part article. Click on the following link to see the first part of this series.
Artisan's Cup Recap Part I
Note: What follows is my own impressions of the Artisan's Cup and in no way represents the opinions of anyone else, so take this all at face value.
In the last newsletter, I gave a quick introduction to my experience at the Artisan's Cup held in Portland, Oregon. I would now like to dive in a little deeper into the exhibition itself. There is enough material to write many pages; the three days were packed with plenty to do and see.
The first place we stopped was actually the vendor area outside. This was held in an outdoor area just outside the museum, with tents set up to shelter everything. Luckily, we had great weather overall so temperature or precipitation was not an issue. I don't think they could have fit any more vendors in this area; it was actually quite difficult to walk around and peruse the wares. This would actually be a somewhat common theme during the weekend, which overall is better than the alternative! Our own Sara Rayner was doing very brisk business selling pots, and a few other potters made for quite a diverse group of pottery available for sale. Similarly, there were many high-quality stands and other accents available for sale. One of my personal favorites was scoring a pretty sweet Juniper snag. It was definitely not what I was expecting to buy, but moderation is overrated.
There were also many trees available for sale. Unlike other shows, the trees here were definitely geared towards the experienced bonsai enthusiast. The stock was excellent, with many huge trunks, well-developed canopies, and exquisite shohin. Vendors definitely brought some of their biggest and best material. If only I lived locally!
The hallway leading into the exhibition had a very philosophical feel. It was quite dark except some illuminated signs, serving as a sort of map to the intentions of the exhibition. These were small phrases introducing the show as a sort of coming-out-party for American bonsai. This dark theme was consistent throughout, with the trees lit from above and below.
This unique lighting arrangement allowed great detail to be seen on the trees. Whereas normally shadows obscure much of the interior branching, here they were shown directly. This also meant that the craftsmanship of the trees was on full display; flaws couldn't be hidden nearly as easily. Luckily, the trees were generally very meticulously maintained. The inner structure was generally superb and well-developed. As you can see in the picture below, these trees were not shown too early. They have developed great age and maturity before being shown.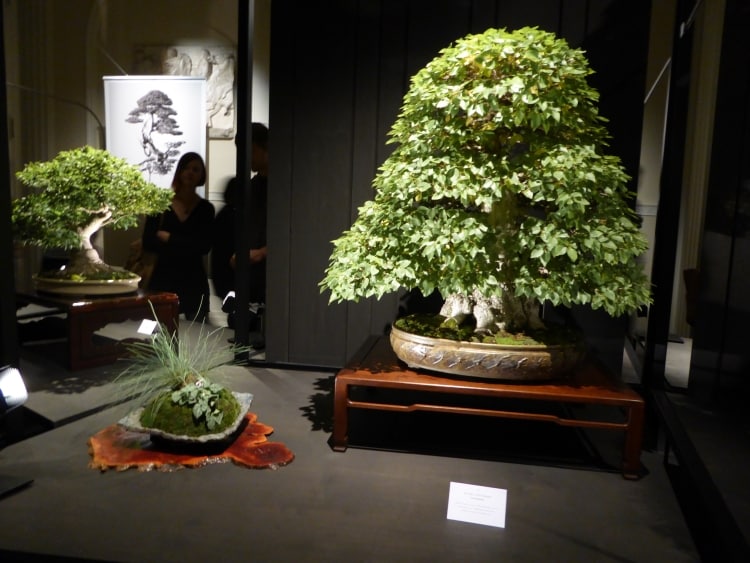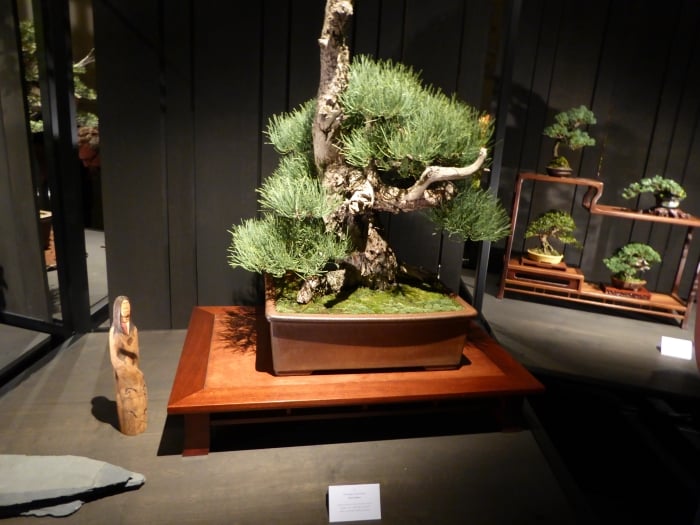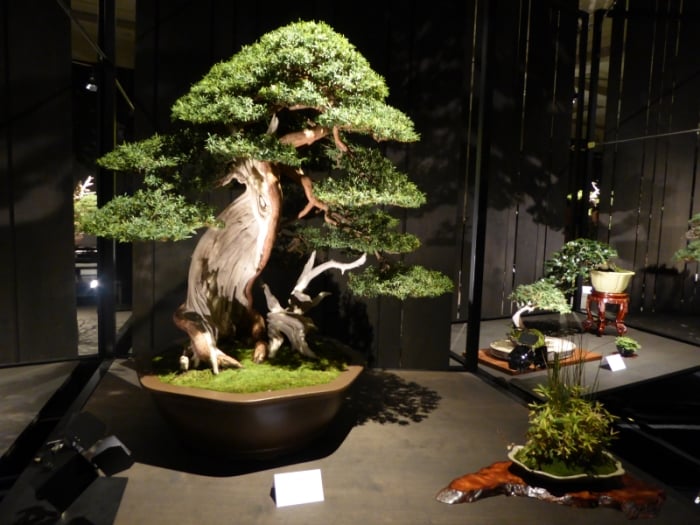 One criticism that I would offer is that the show was very Pine and Juniper heavy. While this definitely represents certain parts of the United States, there are so many other biomes that could be represented. This is a very naturally diverse country but you may not know it attending this exhibition. It was also difficult to get an overall impression of each true due to the crowds, but I am not sure how this could be avoided easily. While I was able to get up close and see details, I had a really hard time enjoying the trees as complete compositions.
…. to be continued in part III