By Randy Davis
I first fell in love with the "tiny trees" at the Minnesota State Fair. A former co-worker from a hobby job, Terry Bishop, was into bonsai and suggested that I check out the Minnesota Bonsai Society.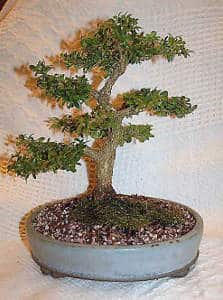 I have been doing bonsai for about six years (5th year in the MBS). I liked the idea of being able to work on trees as a form of therapy to escape from the trials and tribulations of the daily grind and being a parent.
The first tree that I entered got a blue ribbon in the novice class at the 2006 show. It was a shohin Korean boxwood. Unfortunately, I tried wintering the tree in the shallow show pot and the tree didn't survive. So much for improving the tree. (Important lesson learned)
I really liked the boxwoods and was determined to find some more that I could style into another shohin. I bought three Kingsvilles in the form of nursery stock from the west coast and off of Ebay. I started talking to everyone that I could to find out what they did to grow their boxwoods and how to style them.
Suthin gave me some tips when he was here for the Bonsai basics class. Before he started cutting he asked permission and uttered those infamous words " You like tiny tree" to which I responded "Sure!" Everyone gasped as Suthin proceeded to reduce the basketball size shrub into a 3 inch tree that resembled a tiny cross with a couple leaves on it. Larry told me afterwards he thought he was going to have to resuscitate me. I learned that no mater how much foliage there is, a good bonsai starts with the trunk and the tree is built form there. (That tree didn't survive wintering either)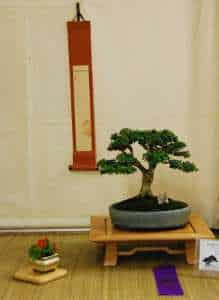 Another tip that I was given was that "Birds must be able to fly through the tree." I thought I understood exactly what they meant by that and removed almost all of the interior leaves leaving the branches resembling a pom-pom style. I found out at the 2008 State Fair show, that my interpretation of the tip was not correct. I did get a red ribbon for second place in the novice class and had more work to do. On the bright side, I managed to keep the tree alive through the winter.
After taking a few more masters workshops, particularly the one last year with Rodney Clemmons, I had a better understanding of what a good shohin Kingsville should look like.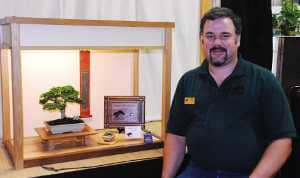 Four years after I started the process and with advice from some very knowledgeable people, the tree that I entered was able to capture the judge's attention. I look forward to the continuing development of the tree and improving it to it's fullest potential.
Thanks to everyone who has helped me by sharing their advice and experience.
(You can view a close-up image of Randy's Kingsville boxwood in the 2010 State Fair Photo Gallery.)