by Norma A
In 2002 Master Boon quietly viewed my buttonwood bonsai at the Minnesota State Fair….he bowed slightly and called it an "old soul" with wabi sabi. As caretaker of this collected buttonwood, which I purchased in 1998, I've learned what a challenge it is to grow the "queen" of Florida tropicals in our cold north.
The soil must be kept alkaline and watered frequently. Buttonwoods thrive in warm, humid and bright conditions which pose winter problems for northern growers with no heated greenhouses. The solution I've found is the use of HID sodium lights and flourescents in a small heated basement room. Air is circulated by a small fan and a window can be opened for fresh air in the early spring.
Using several photos taken the last 10 years, I'd like to share the metamorphosis of the "old soul". During this time, the main objective was to uncover and highlight the beauty of the deadwood and fantastic twists of the trunk.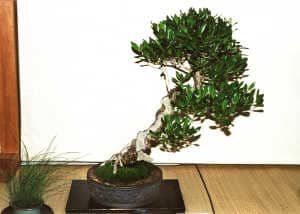 At the 2000 State Fair the tree was shown for the first time. Much of the foliage which covered the t ree was trimmed and lime sulfur applied to the deadwood.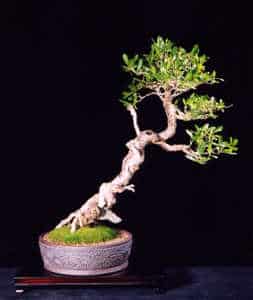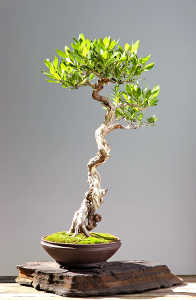 Using suggestions from the judge, right after the 2000 show, I started to work on branching but soon discovered the old branches resistant to bending and consequently removed some branches to open the trunk line.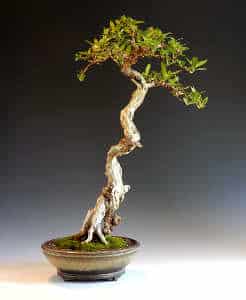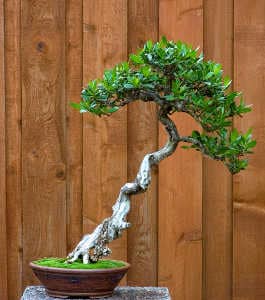 By 2004 the tree was repotted in an erect angle and extensive carving done to create deadwood to the top of the trunk.
In 2005 the lowest right branch which came out of the inside of the curve was removed and wiring began on some branches. Over the next five years fine wiring of new growth proceeded well and the angle of the trunk changed.
The tree as it looks now, will still need more work. The next few years I plan to lower and lengthen the left branch bringing it closer to the trunk and the top of the tree needs more refinement with a definitive direction for the apex. It will take time and must be right for the "old soul".