By Ken Ellis, President
The Minnesota Bonsai Society is off and running with a great year. The Mother's Day weekend show was one of our very best and utilized our membership to display and host a wonderful bonsai show. Your enthusiasm for our society encouraged visitors to sign up for our novice workshops and for our visiting bonsai artist Dennis Makishima workshops. I've heard many fine reports from participants. At our June meeting Dennis gave an educational and enjoyable presentation that entertained all of us…were you there?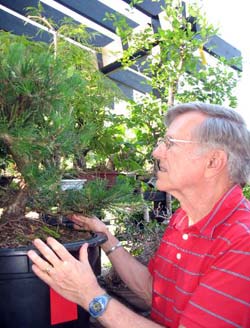 Memorial Day weekend seven of our members attended the Brussel's Bonsai Rendezvous May 28,29 & 30 in Olive Branch, MS. This is a yearly event that many of our members have attended over the past several years. You might want to put the event on your schedule for next year….go on the Brussel's Bonsai Nursery web site about November to get early registration prices ($150 this year) and workshop information. This year's guest artists were Peter Adams, Colin Lewis, Marc Noelanders, Mathew Ouwinga, Kathy Shaner, and William N. Valavanis. Most of the workshops were materials supplied…trees, wire, and soil where needed. Some workshops were ½ day and others for larger more complex material were full day. Materials ranged from a Chinese fruiting quince – 1" caliper and 16"-20" in height with a ½ day workshop cost of $95 to a full day workshop on a trident maple specimen with trunks ranging from 5"-6" caliper and a height of 18"-24+" (these trees each had a retail price tag of $1300.00) and the workshop went for $675…tree supplied! The nursery advertises to be the largest bonsai nursery in the US. and, they have started construction on a large number of additional greenhouses to be completed in the near future.
I hope you were able to participate in the June 19th Spring Bonsai Auction…while I'm writing this newsletter article before the auction, I know many of you will have had an opportunity to get some new and interesting material for your collection and for upcoming workshops. This is the first time we've done an outside auction!
On Saturday, July 17th you have a chance to participate in the MBS annual tour and picnic. This is for all our members. This is a great opportunity to see the growing areas of several of our members…bonsai trees in the making as well as some ready to show. If that's not enough, we finish with pot luck picnic that is always not to be missed.
Our next MBS exhibit will be September 3rd-4th in the large display room at the Horticulture Building at the Minnesota State Fair grounds. Each of you with bonsai trees should be planning, and preparing your trees so you can be an active member showing some of the best you have…this is a judged show…that being said, it is an opportunity to get the judge, Jim Gremel, to give you suggestions on improving your bonsai…just for showing your tree! Details will be available in our newsletter and at upcoming meetings.
You've got auction acquired trees, and others you've procured recently and now you have an opportunity to get our visiting bonsai artist Jim Gremel, to help you create or restyle your tree to make it more show worthy. Workshop days are Sunday, September 5th and Monday, September 6th (Labor Day). We use MBS funds to bring a bonsai artists here to the Twin Cities and for a nominal workshop fee you get to have help designing your tree/s. This should be a must do item to get the maximum from your membership ….no trip to California, Olive Branch Mississippi, Chicago Illinois or Michigan….we are bringing this master here for you. Sign up at our next meeting!