By Ken Goebel
It's been four years since I joined the Minnesota Bonsai Society, and I have many stories to tell, and many new friendships made. Being actively involved with the society and its many events has been a joyful time for me. So I want to share some of my most memorable moments with all of you.
I joined MBS in September of 2006, and at the November meeting I encountered the raffles offered at most meetings. A golden gate ficus was up for raffle and caught my eye. It was left over from a prior novice workshop that the society offers to the general public twice a year. Since I never win any raffles I decided to buy only two tickets for one dollar. Well, to my astonishment I won this tree, and I had only been a member for two months. What a way to start my MBS membership! I remember the ticketmaster saying to me in good humor, "now don't you let that tree die". I took those words to heart, and this tree has evolved into one of my favorite tropicals.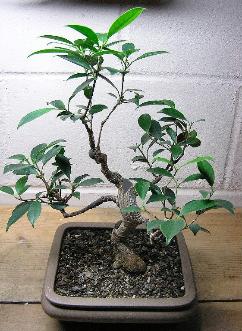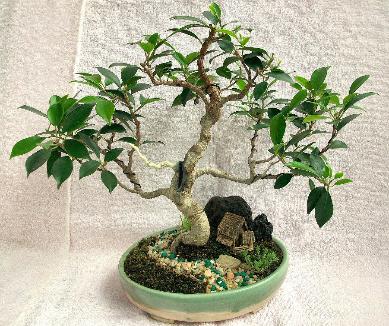 It has survived four years of my tortuous chopping and styling, and has endured removal of two major branches, one of which was jinned. Then a fake lightening strike was gouged into the trunk next to the jin.
And my leaf reduction technique has seen new leaves grow to just 2/3 the si ze of the original. A fantastic gift from the MBS!
The public auctions the MBS holds twice a year are fun to attend and participate. They are a source of healthy, good looking bonsai at reasonable prices. And the silent auction tables provide good, cheap starter bonsai for practicing one's skills and styling ideas.
Well, at the Oct '06 auction I bid on and won a mature, threadleaf false cypress that needed a styling haircut. So it was repotted to expose some good nebari hidden under the soil, and foliage trimmed to a weeping broom style, which I then entered as a shoji display at the state fair bonsai show fall of 2007.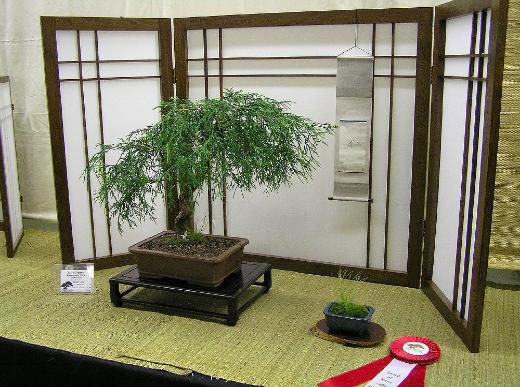 To my surprise it was judged the best shoji by the visiting bonsai master.
So, I encourage the novice MBS members to show off their trees at places like the State Fair and Mother's Day shows as a tribute to the public of the great bonsai society that Minnesota has. Even a novice like me who had been a member only 1 year with very li ttle experience can be recognized for their bonsai art.
Unfortunately I let success go to my head, and with some advice at a visiting bonsai master class in 2008, I decided to radically restyle the tree into a literati, and the largely defoliated tree punished me by dying. A hard lesson well learned.
At the Aug '09 general meeting a lady had set up a table and was selling all her bonsai and house plants because she had to move out of state. As I casually looked at the table, a schefflera 'brassaia' caught my eye. It was a bushy houseplant, 31 years old and very well taken care of. I couldn't help but notice the old, banyan style trunk with great nebari, but decided to move on. Then she offered to sell me the schefflera for $20 since she didn't want to haul it with her. Well, I snapped it up at that price, took it home and chopped a major branch off along with some leaf pruning, removing about half the leaves on the original tree in the process.
I liked the result so I decided to enter this in the State Fair fall '09 bonsai show, again as a shoji display. But I didn't win this time. In his evalution, the visiting bonsai master suggested that I chop the tree in half to get two nice looking trees out of one. At first this was scary to me, and my friends were aghast that I could even think of doing such a thing.
Being the tree chopper that I am, and unknowing to my friends, this spring in March I chopped my tree in half. The top half was put into neutral rooting soil since the schefflera likes neutral pH soil, and was kept on a heating pad in a small tabletop greenhouse at 76 deg F and 70 % humidity under a fluorescent gro-lamp. Soon this trunk cutting began growing numerous aerial roots which quickly reached the soil line. Then it prolifically grew many new leaves, and the aerial roots thickened up. I was amazed at how fast this all happened. A month later I took it out of the greenhouse, and at the latest Jun '10 MBS spring auction I sold this vibrant, healthy 'topchop' scheff lera at the silent auction.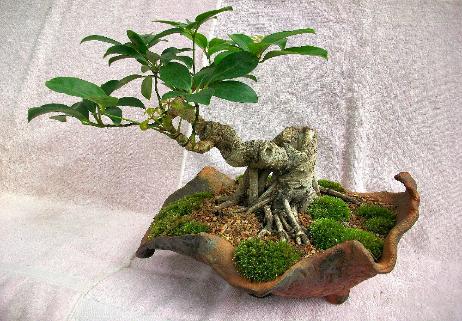 It was exhibited at this year's Mother's Day show in May at Como conservatory. A great bonsai from a $20 houseplant sale at an MBS meeting!
My latest bonsai moment happened at the Dennis Makishima styling class offered by the society this May. What a joy it was to meet Dennis and experience his street humor. His knowledge and experience at styling bonsai simply flowed out like a clear and transparent river. Everything he said to me about styling my tamarack was logical and sensible. The tamarack was acquired at another MBS auction in the spring of '08, for only $45! This is a 20 years old tree that was collected in northern Minnesota in the early '90's, with great nebari. At that time it looked like a shaggy christmas tree, and I didn't have any styling ideas, but the price was right!
The bottom half of the tree was repotted into a rustic 'Charles Iker' pot. Well, Dennis gave me ideas on 'styling by trimming' at the class, and I went to work with my cutters. After the styling, this tree looks like a grand, old tamarack that has survived many Minnesota winters. And, a month later it is well and thriving with new growth all over the place.
At the June general meeting I overheard our guest speaker Dennis Makishima suggest that the society could auction off his shohin hinoki false cypress, and he graciously gifted the tree while saying this. This little tree was grown, trained and styled by Dennis for 25 years. I silently decided right then that I was going to bid and win that tree at the upcoming auction at any price, as a memento of my pleasant experiences with Dennis.
It has survived four years of my tortuous chopping and styling, and has endured removal of two major branches, one of which was jinned. Then a fake lightening strike was gouged into the trunk next to the jin.
And my leaf reduction technique has seen new leaves grow to just 2/3 the size of the original. A fantastic gift from the MBS!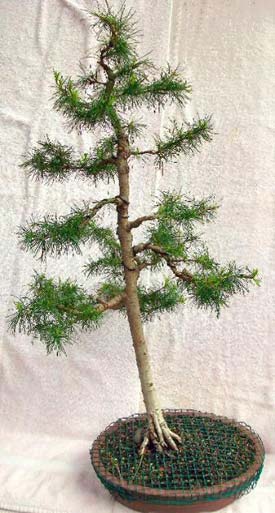 And at the live auction I ended up in a bidding war for the tree with two other members who wanted it almost as much as I did. My final, winning bid was $310. I really wanted that tree! At the same auction at the retail tables I found a very nice Sara Rayner pot to go with my Makishima tree. The pot was only $15 and of the highest quality that Sara is known for worldwide. My styled tamarack and prize hinoki are shown here.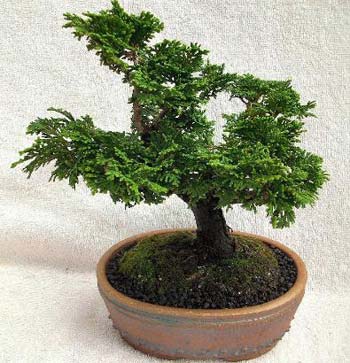 The Makishima hinoki is shown in its Sara Rayner bullet pot. Eventually, I'll repot the tamarack into a special stone pot that I've made from basalt rocks collected along Minnesota's north shore.
Without MBS none of these moments would ever have happened. A great, friendly bonsai society in our own Minnesota.