By Sue Krueger, President
There is an old-fashioned phrase that resonates with me when I think of our bonsai trees. "Having the care of it", may not be fashionable, but the meaning is very clear.  Many of these trees have lived for hundreds of years in the wild, surviving all kinds of weather and natural disasters. After we purchased a few collected ponderosa pines that were very probably hundreds of years old, my responsibility of caring for them took on a whole new meaning.These were not "disposable" trees for us to learn from, they were natural masterpieces and it was incumbent upon us to learn to care for them in the very best way possible. Thank goodness someone else was willing to collect, train, and care for these trees so I would have this opportunity.
We have been blessed to be able to host many of the bonsai teachers that visit Minnesota. Having studied in Japan, they have shared some of their stories of their experiences with us.  I am intrigued by their tales of their teacher's father, who purchased a seedling and raised it with quiet patience and passed it on to the next generation. The tree is now a well-crafted specimen resplendent in extra-fine ramification, beautiful trunk line and strong roots. What inspired them to do this, when they may never see the result of their careful attention to detail?  What does it mean that they have chosen to make this their life's work?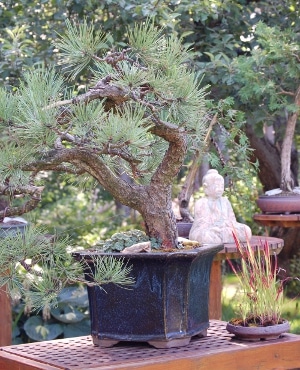 In one of these recent conversations I was struck by the idea that full development of a deciduous tree could take 60 years or more.  nwardly I groaned and thought I don't have that much time. But as I continued to think about it, I began to realize it didn't mean that I would not enjoy the beauty of the tree or the caring of it. Of course I would. Just walking out and looking at each tree, gives me a deep sense of peace. Yes, I might not see its full ramification and stark beauty in defoliation, but I will enjoy waiting for the buds to open, as if it's Christmas morning, in anticipation of its awakening.  I find a deep sense of satisfaction when I'm watering, fertilizing and protecting them from foreign invaders.  It's fascinating to watch them grow and develop and change over time.  I am deeply thankful for the things they have taught me and the effect they have on my life.
So, for now, I will do my best to remember that I am only having the care of these trees for a short time and that my intention is to pass them on to the next generation, and as an amateur practitioner I will enjoy the many gifts they bring to my life.