By Sue Krueger
With so many trees to water every day, we've tried many different brands of garden hoses. It may not seem like that big of a deal, until they start wearing out, kinking and get to be too heavy to drag around. Watering can become a real drag. We finally found a garden hose we love!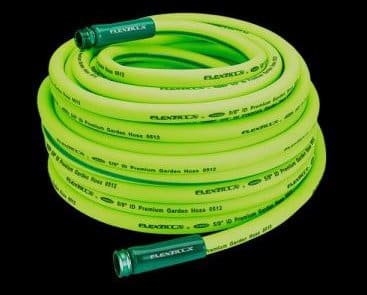 The Flexzilla® garden hose is flexible, light-weight and helps to make watering our trees a pleasure. We ran an inexpensive garden hose around the perimeter of our large yard and added 6 posts with water shut offs. We now have access to water at 6 different locations in the yard, without having to lay poly pipe underground. Now a 25 foot hose at each location reaches every part of our backyard. We've had one of these hoses for 3 years and although the neon green color has begun to wear off, the hose has stayed flexible and the hose connections show no signs of leaking.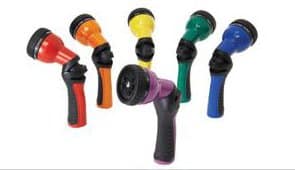 The other challenge to watering is what's used at the end of the hose. We've tried different watering wands, but they never seemed to last more than a year or two, or , they are so expensive that they don't make sense when you consider we need 6 of them. After trying several different types, we're sold on the Dramm Revolution™ 9-pattern Spray Gun. The thumb control gives instant one handed control of water flow, which is important for making sure each tree is getting the right amount of water. This version even includes a pattern for fogging, which we use often. They're super durable and the bright colors make them easy to find, if you happen to set them down in the yard.