By Sue Krueger, MBS President
To begin with, I didn't appreciate bonsai. They cost a lot of money, took a lot of time and frequently died. I tagged along visiting the displays at the Home and Garden Show and Como Conservatory. It wasn't until I saw a wonderful bonsai collection and gardens at Bob and Pam Hampel's home that I understood what these trees were about. After that, I was all in.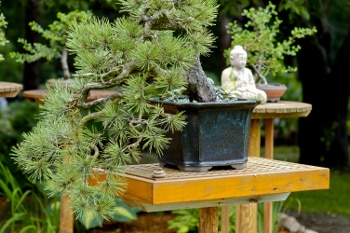 Growing up in a gardening family, plants have been an integral part of my life. My grandparents supplied my family with fresh fruit and vegetables. I ate strawberries, still warmed by sunshine, right out of the garden. Over the years, I have cultivated hundreds of plants and built dozens of gardens. For me, the garden is my touchstone. There is something about being in the garden that gives me a deep sense of calm and peace. Bonsai has become a natural extension of the garden.
Spending time with these trees is deeply meditative. Becoming the caretaker of a tree that may be hundreds of years old instills a deep sense of respect and responsibility. Bonsai is a practice that is very disciplined, yet wildly expressive and creative. Most of our lives are so busy and frenetic, moving at such a fast pace. Bonsai forces us to slow down, take a deep breath and focus. Wiring is almost impossible if I'm preoccupied or distracted, it becomes very frustrating. If I focus all of my attention on the task at hand, my mind calms down and wiring become effortless and I lose all track of time.
We've built beautiful cedar stands and benches for our trees as well as a cold frame for winter storage and a Japanese style screen house. Long-time collectors of raku-fired ceramics, we now have a growing collection of beautiful bonsai pots. Our vacations are spent climbing granite outcroppings in the Black Hills or tromping through water-filled bogs up North, collecting trees. Our lives have come to revolve around the care of these trees. They have become a sort of food for my soul, not unlike the luscious strawberries I ate in my Grandfather's garden. Deeply satisfying, often surprising.
Whether you have 5 trees or 150, it's very likely you're experiencing some of the same effects. The great American bonsai pioneer John Naka was a proponent of the idea that we don't own these trees, they own us. We are only their caretakers for a very short while. In his book, "The Botany of Desire", Michael Pollan notes, "…these plants have, at the same time, been going about the business of remaking us." We need to remember that if we begin to believe that we are the ones working on the trees, they are working on us too.