Classical Bonsai Art – A Half Century of Bonsai Study is the distillation of the fifty year passion of William N. Valavanis.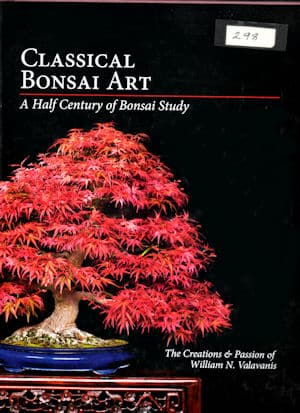 Some of the finest bonsai created in the United States can be appreciated in this book where the historical information, photographs and tips will help with your own bonsai training. This book is organized to first introduce classical bonsai art and styles and is followed by describing refinement techniques for deciduous, narrow leaf evergreen, flowering & fruiting as well as shohin bonsai.
Over 675 photographs clearly show the work of a bonsai artist who has dedicated his life to the expansion, promotion and refinement of bonsai. Specialized techniques are shown and explained for developing and improving your own bonsai. Growing tips for producing healthy bonsai are shared, based on a half century of experience and research.
– excerpt from inside cover
Author: William N. Valavanis
Published 2013 by International BONSAI, New York
Hardcover, 256 pages
The society maintains an extensive library of books for the use of its members. These books are available for check-out during the monthly general membership meetings with a few exceptions. Some of the books are no longer in print and therefore the society is not able to replace them; these books are available for viewing during the meetings. In addition to books, the library contains instructive DVDs and magazines. Be sure to check them out and take advantage of this membership benefit.
The guidelines for checking out library materials are:
You must be a society member in good standing.
You will be asked to fill out an information card that will be kept on file
The librarian will take a security deposit (a current credit card number) for the value of the materials being checked out.
The materials you choose will be listed on a form maintained by the librarian.
If you are unable to return the materials by the next meeting there will be a one month return grace period, after which you will be contacted and arrangements will be made for their return. If they are not returned, the security deposit will be processed so that replacement materials can be purchased.
Donations to the library are always deeply appreciated!