by Sue and Dale Krueger
Last February, we enjoyed visiting Rodney Clemons and his wife Charlie at their home in Stone Mountain, Georgia, which is right outside of Atlanta.
We had hosted Rodney when he visited Minnesota the previous summer as the guest master and judge for the Minnesota State Fair show. His good friend , Karen (a Minnesota native), from the Monastery had suggested he visit Taylor's Falls if there was time, so we spent an afternoon hiking around the park and looking at some of the trees and rock formations for bonsai design inspiration. We forget sometimes what beautiful inspiration we have right here, close to home.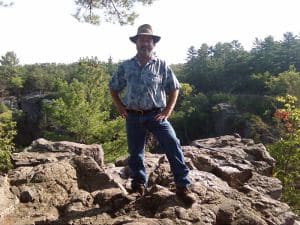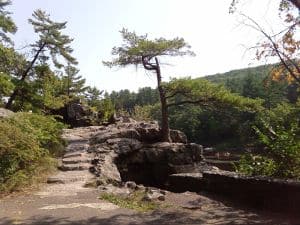 ---
While visiting them at their home, we got a tour of the growing area, greenhouse and their landscaped property. (Rodney operates a landscaping business.) They have an extensive collection of viewing stones scattered throughout the property and Charlie keeps a collection of basin stones in her kitchen window. There was a serene pond, with a huge stone table near the water for dining. We were careful to watch for copperhead snakes because Charlie had been bitten recently while getting into their boat.
---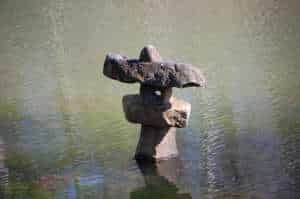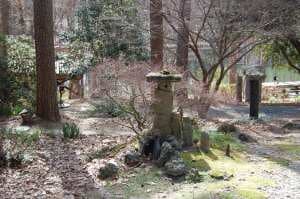 Their growing area for Kingsville boxwoods was very impressive. This is Rodney's favorite tree and he favors the "Live Oak" style. As soon as he said it we knew exactly what he was talking about. We had seen this style in the natural landscape on our drive from Florida to Georgia. When they married they merged their collections. The "heart tree" was one of our favorites. Rodney is also partial to bald cypress trees and he likes them styled the way he sees them in the swamps.
---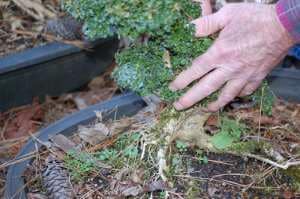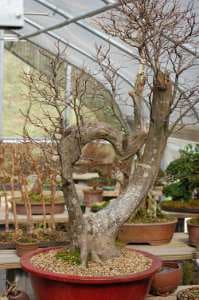 We had learned some good horticultural tips from Rodney and were anxious to learn more about the potting mix that he used. He believes that developing a soil mix that fits your watering style helps your trees stay healthy. If you're a heavy waterer use a mix that allows the water to move through the soil quickly. If you water more sparingly, use a mix that holds more moisture. Whether you're a heavy or light waterer your soil should work for you.
---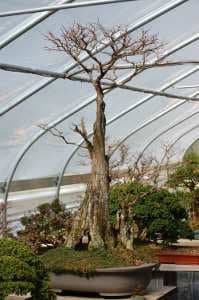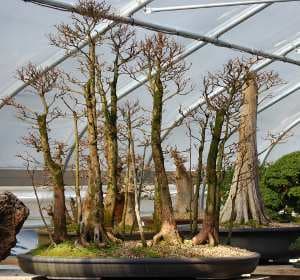 Rodney and Charlie also took us to visit the Monastery while we were there. We got to meet Karen and walked around the grounds and got to know some of the history of the place. We ordered some pots to have shipped home and investigated the different soil types they offer. It was a fun afternoon.
---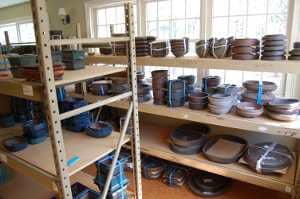 Since our visit, Rodney and Charlie have scaled down the landscaping operation and are gearing up to go full time with Bonsai. Rodney is leading an advanced study group and is now the curator at the Monastery and the Smith-Gilbert Garden bonsai collections. Both are open to the public. He is also preparing for advanced workshops featuring the wonderful Kingsville boxwoods he grows so well.
We thoroughly enjoyed their warm and welcoming southern hospitality and hope to visit them again soon.