By Ken Ellis, President
September 2010 will be a month to remember and I want to share one special event that was very exciting for me. On July 14th I received an e-mail from Pat Leners stating that she, as the web site administrator, had received an e-mail from someone with the subject line "Bonsai Trees Looking for a Good Home". This person wrote, "I have inherited an unknown number of well cared for bonsai trees. I plan to collect them this summer from the nursery that has been caring for them and then hope to give them away to a good home(s). I'll take photos so I can solicit prospective owners. Could the MN Bonsai Society help me find a good home for these bonsai trees? David Dayton"
"I have successfully found a good home for Mom's Bonsai trees. Mr. Ellis is a volunteer leader at the Como Park Conservatory and has worked on Bonsai trees for decades. He likes the tree photos but needs to see them in person to be sure they could go into the Conservatory's collection. They have ~150 trees now and would like to expand as part of a $2M project…. I will transport the trees at Mom's house to our home this weekend so Ken can see them all there…."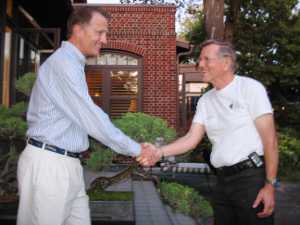 In a telephone call Sunday morning, September 12, David invited me to his home at 5:30 PM to actually see the trees. Church in the morning, and then a picnic and meeting of the Minnesota Water Garden Society at the State Fair Grounds in the afternoon…and then Bonnie and I drove to David's home in the Kenwood Park area in south Minneapolis. Nine bonsai trees in total and all looked great. David had also done some homework of his own. He said, "This afternoon I went to see the bonsai collection at the Marjorie McNeely Conservatory at Como Park and I was very impressed." We decided that I would take four of the bonsai that evening to my home growing area. The four filled the back of my Honda CRV. Bonnie and I were invited back Monday evening where David was planning a party event where he wanted to showcase the five remaining bonsai. After arriving we learned he was celebrating his 49th birthday as well as hosting a reception for his cousin, Mark Dayton, and some of Mark's supporters. After the party David helped me load the remaining five bonsai into our CRV…they were very tight and I chose not to unload them when I got home late that night.
Tuesday morning during my regular bonsai volunteer time with Mike Porcaro at Como, I made two trips bringing all nine bonsai to the conservatory. With the help of Reva Kos, MBS member and the new Como head bonsai gardener, Jim Etten, another MBS member and Como gift shop worker, much of the morning was taken up with Tina Dombrowski, Conservatory Manager and I photographing the new acquisitions for their and our records. We anxiously look forward to maintaining and refining each of these very special bonsai.
A big thank you is in order to David Dayton who coordinated this major contribution to the Marjorie McNeely Conservatory bonsai collection and to the Dayton family for donating "Mom's" Bonsai to the Conservatory. David said his mother, who died two years ago, maintained her bonsai collection for over forty years and lived in the Long Lake area.
To see the Dayton trees please go to the photo gallery…..