By Ken Ellis
Were you at our April meeting? Wow….what excitement and creativity. Our program chairs Jeff Lorch and Terry Bishop along with our volunteer project leaders gave us a great root over rock program that inspired all of us. I'm looking now for a tree candidate, probably a Japanese maple, and a special rock to put the techniques offered to a creation of my own….How about you? Check the information and pictures in this newsletter to see what went on.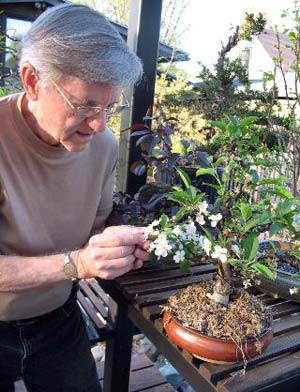 The Bonsai Basics Class of 2010 had a very special opportunity this past month and while the details were kept very hush hush, and chairpersons Van Jensen and Lionel Flood huddled with class participants during our general meeting, getting details dispersed, and working materials arranged for the upcoming class. A little bird told me that Cheryl Sykora was involved in getting a very special guest to attend and assist with the April class…if you want more information you are going to need to search out someone who attended the class.
Just a month away and our long anticipated spring Mother's Day Bonsai Show will materialize. This is the show where all of our MBS members have an opportunity to show off their best spring bonsai. Some of our bonsai are at their very best in the spring with small, brightly colored leaves and needles and even some with blossoms that are always a special treat.
With this article is a picture of me "helping the bees" with some pollinating of my Sargent Crabapple bonsai tree that was in full blossom this year at the same time as my three yard apple trees; too early for the Mother's Day Bonsai Show, but if crabapples develop, perhaps a candidate for the State Fair Bonsai Show.
What's expected of you for the Mother's Day Bonsai Show?
Sign up to bring at least one bonsai tree.
Continue grooming it during these last few weeks. Check that training wire is not cutting into the fast growing bark. Remove wire that is no longer needed.
Look for velvet looking moss that you can apply to add color and interest to the landscape around your tree.
Clean up the pot so it is indeed an attractive frame for your bonsai.
Do final trimming of new growth and apply new wire if needed to get growth going where you want it.
Talk up the Show with friends and neighbors and encourage them to take "mother" or someone else to enjoy this once a year opportunity Saturday, May 8 and Sunday May 9 from 10:00 AM to 6:00 PM at Marjorie McNeely Como Park Conservatory.
Sign up to help monitor the show and to talk-up bonsai and the Minnesota Bonsai Society.