Each year MBS sponsors a Spring and Fall Auction. This is a fun and exciting event where members can buy or sell trees, pots and other bonsai-related materials during the live or silent auction. It's one of the best ways to obtain new material for your collection, or make room on your benches. A percentage of the sale is retained by the society to help fund other events.
The Spring MBS Auction is on June 24th at the Washington County Fairgrounds. Fall Auction will be October 14.
---
SPRING AUCTION

When:
Saturday, June 24, 2023
Time: 10am – 2pm (Open to the Public)
9am – Seller Check-in only
10am – Public viewing starts
11am – Bidding starts
Where: Washington County State Fair Grounds, 12300 40th St N, Stillwater, MN 55082 –
Building B (large building)

---
.
FALL AUCTION

When:
Saturday, October 14, 2023
Time: 10am – 2pm (Open to the Public)
9am – Seller Check-in only
10am – ITEMS AVAILABLE FOR PROSPECTIVE BUYER VIEWING
11am – Auction Start time
Where: Pavilion at Washington County State Fair Grounds, 12300 40th St N, Stillwater, MN 55082
---
.
General Information:
Sellers: Plant items should be free of weeds, outside soils, and not be dripping water when they arrive. Try to water the night before and not when you pack up your plant material. Cards and bidding slips are paper and the ink runs when wet making them difficult to read.
AUCTION CARDS SHOULD BE COMPLETED PRIOR TO ARRIVING AT THE FAIRGROUNDS.
The cards should be 3×5 HARD STOCK CARDS. You can choose to make your own out of hard stock but do not use print paper and do not substitute 4×6 cards. TWO CARDS FOR EACH ITEM ARE REQUIRED. If you want to put notes on care on one card, that is acceptable but both cards must contain the seller's member number, an item number assigned by the seller, a minimum price the seller requires, and a name for the item. One card is saved for the auction cashier and the other card goes to the buyer. Each seller must be a member in good standing and must sign in with the number of items, he or she is selling in the auction. Non-MBS members are welcome at the auction as buyers but you must be a member to sell items.

Live Auction Information
The live auction continues until such time as all the items have been auctioned. Remember, too high of minimum The live auction continues until such time as all the items have been auctioned. Remember, too high of minimum may engender no sale and those items must be picked up by the seller at the conclusion of the auction. Think through your minimums as sometimes starting lower is more successful at selling an item at a higher price than occurs when the minimum is set too high and the auctioneer starts out higher. Placing a number 1 on your item after your member number so it is the first of your selling lot guarantees it goes into the first half of the auction. Not doing this means it can go in the second half and in some cases may not sell as well. You get one guaranteed opportunity to put an item in the first half of the auction, use it well. Appearance of the item is important to the success of a sale. Top dollar is realized for items that appeal to buyers. Dirty containers and weeds are not appealing. MBS assumes no responsibility for items that do not sell and are abandoned at the end by the Owner. If your item doesn't sell during the live auction you can negotiate with a bidder for a lower dollar purchase but MBS still retains a percentage of the sale. Live auction items should have at least a $35 value or placement in the silent auction should be considered.

Silent Auction Information
Each seller is limited to 15 items in the silent auction. Small items can be grouped into lots and counted as one item. Place the items together in a box or some other container which might be one of the items. Silent auction items should at least have a value of $5. Complete the cards in the same manner as with the live auction. A bid tape is added to the cards by auction staff to record silent bids and the items are placed on the silent auction tables. Please do not place items on the silent auction tables until they have their bid tape attached to the cards.
The silent auction ends when the live auction is halfway completed. The tapes are processed and the successful bidder identified by number and price on the second card kept with the item. Please remember to look at ALL the items you bid on to identify items you won and pick those up.
---
SELLER ITEM CHECK IN – 9AM (please have items at auction site prior to viewing at 10AM)
You must be an active MBS member to sell.
ITEMS AVAILABLE FOR PROSPECTIVE BUYER VIEWING – 10AM
AUCTION START TIME – 11AM
AUCTION END TIME – When all items have been gone through – usually sometime prior to 2PM. NOTE: for those that were successful bidders, need to leave early and have no further purchases, early check out is available. Avoid checking out multiple times. Cash is very welcome. We accept cash, check, or visa or master credit cards. We do not take other methods of payment such as Venmo, etc.
SELLER INFORMATION
Complete two 3×5 hard cards with member number and item number in the left-hand corner and minimum bid in right hand corner and item description in the center. These should be completed before you reach the auction site and put with each item you are selling. NOTE: we do have spare cards available if you forget some or have need of a few cards but the intent is to do this portion BEFORE you arrive and not after you arrive.

A CURRENT MBS MEMBERSHIP IS A REQUIREMENT FOR SELLING AT THE AUCTION. IF YOUR MEMBERSHIP IS NOT CURRENT AS OF THE AUCTION DATE AND YOU CHOOSE TO SELL ITEMS, YOUR PROCEEDS WILL BE HELD BY THE CLUB UNTIL YOU RECTIFY YOUR MEMBERSHIP STATUS.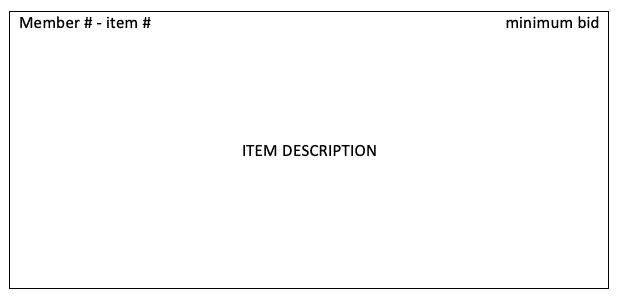 Click to download digital word template
Please print on heavy card stock or attach to a 3 x 5 heavy card if using thin paper.

---
LEFT HAND TOP CORNER – Member number and item number (e.g., 100-1, your second item would be 100-2, third item 100-3)
RIGHT HAND TOP CORNER – Minimum Bid (optional, not required)
CENTER – Item description: tree species, pot, etc., also any specific information such as "re-potted this spring" or "needs winter protection".
Sellers must be members and can have unlimited non-plant material in the silent auction but are limited to 5 non-plant items in the live auction. MBS receives 15% of the proceeds.
VENDORS
Vendors are welcome but sales are restricted to non-plant material only.
BUYER INSTRUCTIONS
Highest bid is the winning bid. In cases where the minimum is not met, the item returns to the owner. Checkout does not start until after the silent auction closes and the bids are tallied. The Society accepts cash, personal checks, Visa and MasterCard credit cards.