by Cheryl Sykora
Pat Leners died at the end of October at the same time the Golden State Bonsai Federation Convention was being held in Sacramento.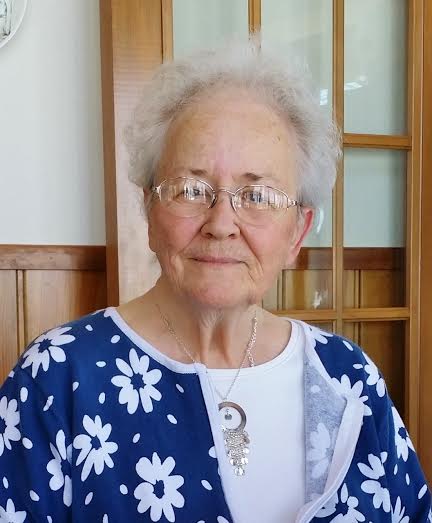 She had an incurable form of cancer that allowed her to liver her last days pretty much as she saw fit and her death was expected for quite some time. During the last few years, she stepped back from active involvement in MBS so many of you may not know her. She still attended and sold at the spring and fall auctions and attended the meetings where a professional was presenting. She was at Ted Matson's presentation in September of this year.
She told me a couple of years ago when she was first diagnosed and learned it was terminal that she would not miss an auction as long as she was still able to attend. I noticed her absence at the fall auction.
I learned from reading the membership roster, that she joined MBS in 1990. When I joined in late 1999, she was probably the first person I got to know. She was present at most general meetings and was vocal about her views on bonsai. Basically, she was hard not to know. Pat was the newsletter editor when I joined and the newsletter was a hard copy that was mailed to the membership. She continued on as the newsletter editor after the newsletter was converted to an on-line publication for club budgetary reasons. She also preceded me as the auction chair when Bob Hampel and Claude Worrell (two names many of you also don't know) were the principle auctioneers and both the spring and fall auctions were held on Saturday afternoons. She did many other things for MBS and won "Best of Show" at the state fair for a medium sized black pine. I forget the year and I forget the judge. I remember the tree.
Pat Leners was a bit ahead of her time with bonsai and MBS. She made frequent trips to California to some of the club shows and to the GSBF conventions. She was a good friend of Mas Imazumi (a California professional that visited MN occasionally and judged the state fair – before my time as the chair). I occasionally still get asked about her by Californians that remember her at conventions and remember she was from Minnesota. She was known for bringing back material from California bare rooted in her suit case and selling that material at the auctions potted up-frequently in Sara Rayner pots. When I lamented her future absence at the auctions during the spring 2014 auction she laughed at me and told me that anybody could take her place if they paid attention to what people wanted to buy and provided it at the auctions. There was no secret to her success, just pay attention to what people wanted and provide it. Apparently it worked as she was always the highest dollar volume seller up until 2014 at all the auctions I tabulated. Some members complained that she sold too much. Does it really matter when 15% of the proceeds go to the club and her stuff was in demand?
The last couple of years, I would send her emails telling her to come visit during Boon's annual April trip and have Randy's ribs with the rest of us if she was still alive. The black humor started with her, not me. She came and had a good time watching others develop their bonsai. We will miss her this year!
MBS says goodbye.