By Ken Goebel
For the first time the United States has joined other countries honoring the beauty of bonsai with a set of five bonsai images on postage stamps. The USPS first issued these stamps on January 13, 2012. They were issued as Forever® stamps, which are always equal in value to the current First-Class Mail one-ounce rate. First Day Covers with each of these stamps also is available from the USPS.

Art director and stamp designer Ethel Kessler worked with Hilo, Hawaii Artist John D. Dawson to create these stamps. Dawson wanted to show popular trunk variations in the stamp illustrations, as well as portray different species of plants. He created rough sketches of four stamps on tissue paper, then started the back-and-forth exchange with Kessler and a number of consultants. The fifth stamp, a trident maple was added later.
The first stamp is intended to depict a Sierra juniper in semi-cascade style, in which the tip projects over the pot rim but does not extend below the base. Second is a trident maple in informal upright style, in which the trunk bends slightly to the right. Third is a black pine in formal upright style, with the trunk straight and tapering evenly, and symmetrical branches, from base to apex. Fourth is an azalea in multiple-trunk style, with several trunks emerging from one root system. The fifth and final stamp shows a banyan in cascade style, with the tip extending below the pot's base.
The trees shown are roughly 15 to 20 inches tall in reality.
There are about 14 countries of the world that issue legitimate, usable postage stamps depicting bonsai art. Most of these countries are in Asia. By far, the most abundant issuers of these stamps include China, Vietnam and Philippines. They also provide souvenir sheets, first day covers, commemoratives and cancellations for collectors.
---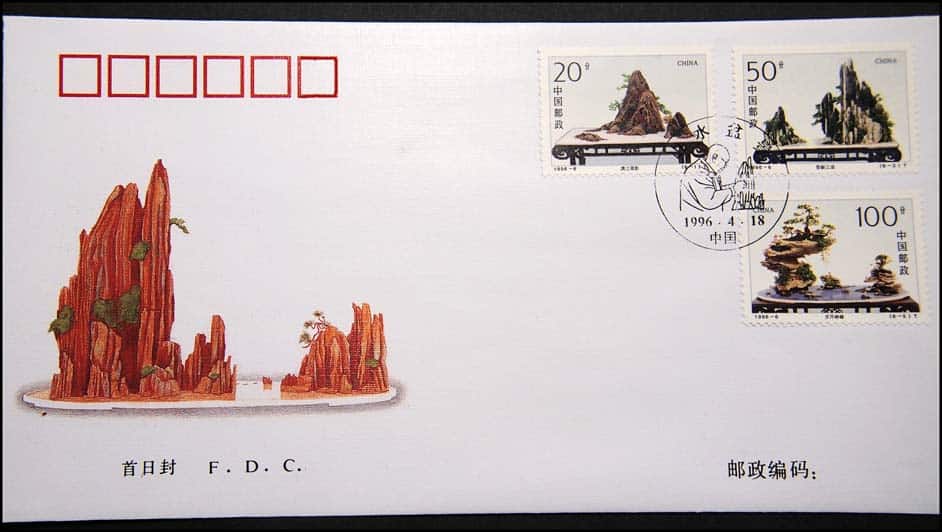 China Bonsai Stamp
The Ministry of Posts and Telecommunications of China issued a set of six special bonsai stamps on April 18, 1996. Three of the stamps are shown on this First Day Cover, featuring examples of Shan Shui Pen Jing or tray landscapes made from plants attached to rocks, with or without figurines. The titles of the stamps are 'Green Scenery of Lijiang' (20 fen), 'Melting Snow overflows the River' (50 fen), and 'Most Uncommon Years and Months of one's Life' (100 fen). The designer of the cover and cancellation is Chen Jingyi.
---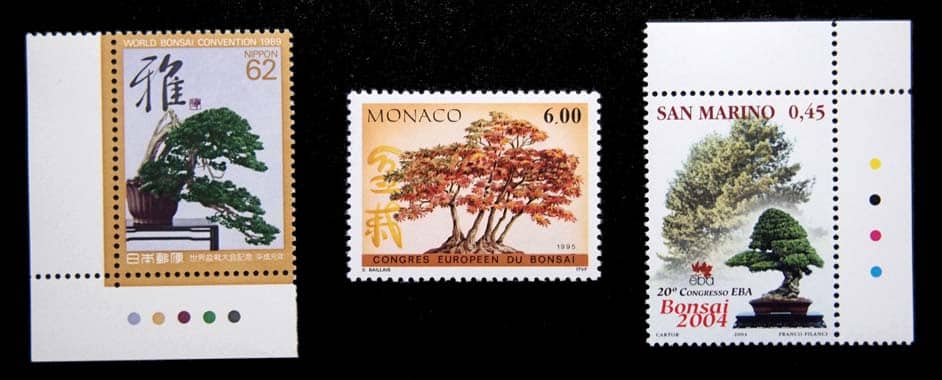 Japan and some smaller countries and regions such as Monaco, San Marino and Maldive Islands occasionally have issued stamps to commemorate special bonsai conventions in Europe and Asia.
---
Regional Bonsai Stamps
Of course there are the illegal or fraudulent philatelic activities as well. The vast majority of countries issuing fraudulent stamps are in Africa; countries like Angola, Congo, Djibouti, Rwanda and Somalia. Stamps probably are the main source of income for these countries. These are "illegal issues for territories which are not entitled to issue stamps and false stamps produced by fraudsters in the name of an issuing authority with the intent to defraud collectors".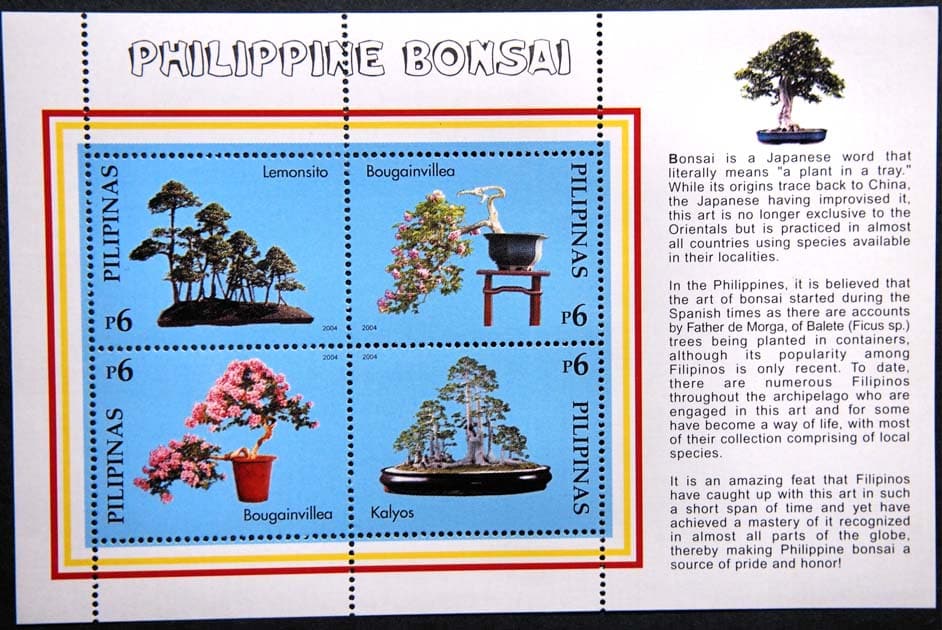 Perhaps the most notorious of these originated from ANGOLA.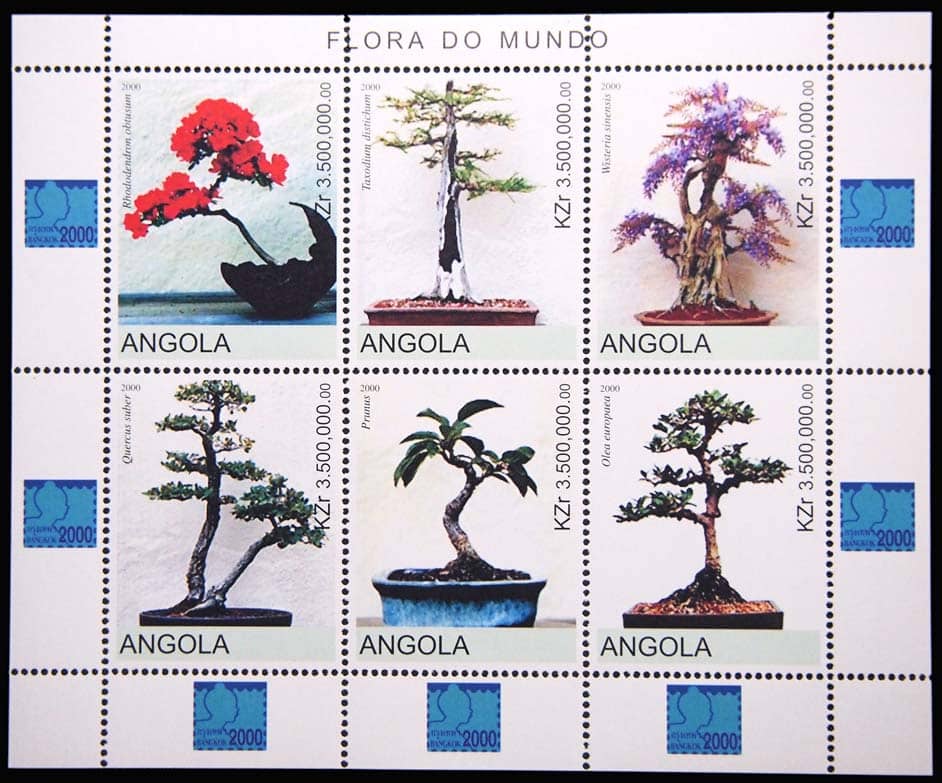 Angola Stamp
Issued in 2000, these 3,500,000 Kz stamps are illegal per the Universal Postal Union International Bureau. At least three dozen sets of various subjects with this denomination were issued by three companies located in Belgium, Great Britain and Lithuania. The trees depicted here are kurume azalea, bald cypress, chinese wisteria, cork oak, pinus genus and olive.
---
DJIBOUTI issued in 2007.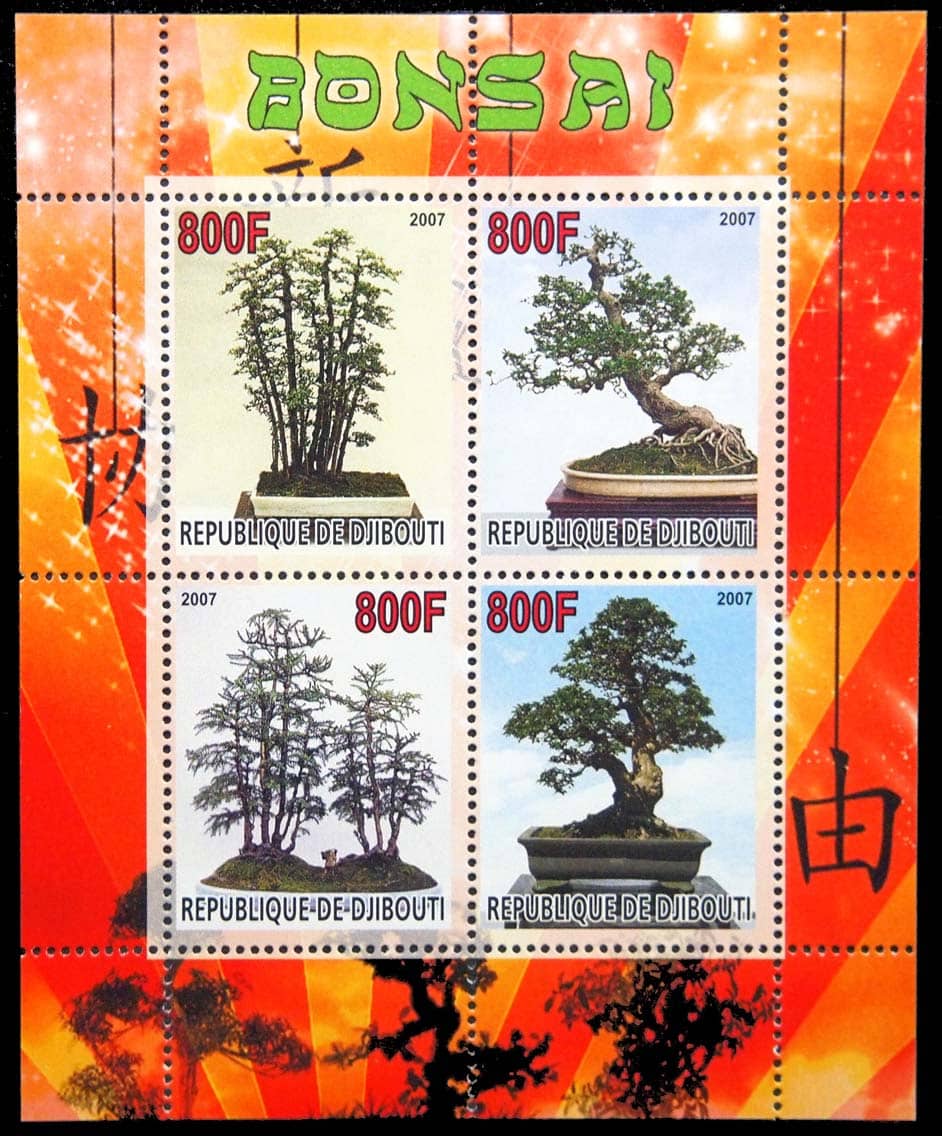 These four 800F bonsai stamps are not listed with The World Association for the Development of Philately (WADP) and the Universal Postal Union (UPU).
Not all of my collection is shown here. There are many more bonsai stamps, legitimate and fraudulent, that I am still looking for. No doubt many more will be issued in the future. My main source of collecting these stamps has been eBay auctions, and DelCampe auctions online.