by Cynthia Williams
Minnesota Bonsai Society fall auction was held on Tuesday evening, October 4th this year (2011).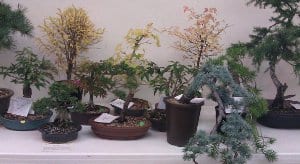 I attended the auction in the spring and was looking forward to seeing how they would differ. I guess I expected that given it was a week night, during what would normally be our regular monthly meeting time; it might not be very well attended. Boy was I wrong! Not only were trees of all types and descriptions streaming in right up until auction time, but the place was packed. There was not an empty seat in the house!
I volunteered to help with intake this time, so I was checking in members who wished to sell trees. What surprised me was the number of people who walked in with trees as donations, so that the entire proceeds of their sale would go to MBS. One man alone donated half a dozen trees or more! There was a flurry of activity as we got things ready, dragging out at least 3 more tables than we thought we would need. As the auction time grew near, the room was abuzz. The excitement was so palpable it was nearly electric.
The silent auction tables overflowed with trees and supplies with a steady stream of buyers circling them like sharks, myself included. Meanwhile, the live auction began. There were some amazing items; including a prize Shimpaku of considerable age and heft (ooohhh aaaaahh), as well as a full sized Japanese maple!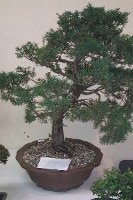 The auction item of the evening in my mind, however, was a single landscape or forest tray. Along with this tray, the bidder would receive a class with our master landscaper, Milo Mietzner. One had to envision the tiny trees that the tray would eventually hold, along with all the new knowledge to be gained. Clearly this was a VALUABLE item. While the bidding started out slowly, it built to frenzy and eventually came down to two bidders who bid and outbid one another, back and forth for some time. Ultimately one of the bidders could go no higher and the prize went to a new member who was thrilled. He was congratulated by his family and all those around him. The crowd exploded in applause!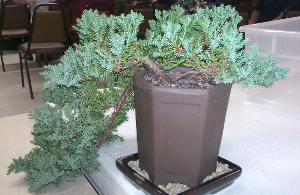 What a great night. I was able to make off with a gorgeous cascading juniper, which is my favorite style, along with a tiny cotoneaster which I snagged for a co-worker who is new to the craft. By the end of the evening everybody was all smiles, packing up their winnings and anxiously looking forward to the next one!
I have now come a full growing season with MBS. I plan to put my plants to bed shortly, and sip my tea until spring comes again and they wake up from their nap. I have learned so much since April and know I still have a long way to go. I can't wait until spring comes and I get to start again.