By Ken Ellis, President
Let's get ready for the Great Minnesota State Fair Bonsai Exhibit! The success of this bonsai exhibit depends on volunteer participation…grooming at least one bonsai to exhibit and getting it/them to the Horticulture Building's south entry area on Thursday, September 2 at 10:00 P.M. This is your special opportunity to get this year's judge, Jim Gremel, to evaluate the merits of your entry. During the judging, recorders write down information from the judge that is shared with just you. What a learning experience this is for just bringing in your selected bonsai! If you by chance get a ribbon, that will be displayed for all to see and for you to take special pride. You will then have the opportunity to consider making changes in your styling, potting, or presentation so that you will be more of a challenge for next year's State Fair show. I think that if you are a member of the Minnesota Bonsai Society, you should plan to exhibit!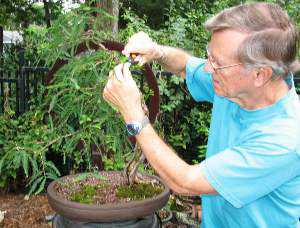 Our MBS membership also has the sole responsibility of setting up and maintaining the exhibit Friday, September 3 and Saturday, September 4 until 9:00 P.M. when the whole exhibit and entries need to be taken down so another plant group can get set up for the next day's exhibit. This can all happen if YOU volunteer to help.
Our judge, Jim Gremel, will also be conducting special workshops at Como Conservatory Sunday, September 5 and Monday, September 6. You are strongly urged to participate. You can select to bring your own plant material to style or you can select, for a slightly higher fee, to work on a materials supplied workshop where various sized shimpaku juniper whips will be provided. The Board is using funds from MBS membership fees and State Fair proceeds to bring in this talented bonsai artist. These workshops are intended for both beginner and advanced students. Don't miss this great opportunity!
I've been grooming several bonsai this summer with the intent of exhibiting three. The included picture of me with my windswept bald cypress is one of my intended entries. I've also signed up to participate in one of Jim Gremel's materials supplied workshops.
So much is on our menu! State Fair Show, Jim Gremel workshops, MBS meeting Tuesday, September 7 featuring Jim Gremel, and then on Saturday, September 18 and Sunday, September 19 we will offer beginner's workshops at Como. I hope you will participate in most of these activities.
At the August 24th Board meeting I plan to request the Board to select a nominating committee for 2011. We will be looking for several board positions and also for several chair persons to continue what I think is the strong interest that's been growing this year. More information will follow. You need to consider if you might be ready to take some leadership responsibilities next year. Thank you for your enthusiasm and support this year.